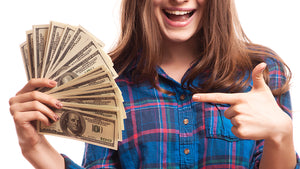 3 Small Business Ideas Anyone Can Start
With the uncertainty of the current job market, people are starting small businesses to supplement their income. Many consider rideshare and food delivery apps as a form of self-employment. But there are a lot of people who want to start a small business in hopes that someday they can do it full time. Below is a list of 3 small business ideas that anyone can create with very little start-up costs.
Carpet Cleaner (link to carpet cleaner article)
Becoming a "professional" carpet cleaner is pretty simple to do. A small investment in a used commercial-grade carpet cleaner can range from $300-$600. Chemicals used for the solution with the machine can be as cheap as a few dollars from any local home improvement stores. In fact, there are many carpet cleaners who use inexpensive household cleaning products instead of costly carpet specific chemicals. The results are just as good, if not better than using carpet chemicals for a fraction of the price. A carpet cleaner who does 1-3 jobs per day can earn as much as $300 per day and if this was operated at 5 days per week, then the business has the potential of making $3000-$6000 per month.  
Window Washer
This is one of the easiest businesses to start since it requires very little investment in equipment. Professional window washers charge anywhere from $4-$8 per window and if a whole house is being serviced, a job can easily earn as much as $200. Performing a few of these types of services per day can yield a great income. In terms of professional-grade equipment, this line of work has one of the lost start-up costs. There are various online stores where a person can purchase starter kits that will include a squeegee, microfiber towels, bucket, and a strip washer for less than $50. The income potential for this business can range from $2000-$4000 per month.   
Auto/Boat Detailer
This line of business can become very lucrative. The initial investment would include tools of the trade such as a pressure washer, chemicals, orbital polisher, towels, and a vacuum. To detail cars, packages can be sold from $50-$150. For boats, most will charge $4-$25 per foot. There are plenty of opportunities to upsell services such as using premium-grade wax or other chemicals. Auto detailers can earn as much as $200 per day while boat detailers can earn as much as $200-$300 per job. If a detailer can secure 5 working days of jobs, their income potential can range from $3000-$6000 per month.  
A common theme that is prevalent in these business ideas is that they all involve water. Each one needs water in order for the business owner to be successful. But using regular tap water isn't going to cut it, soft water needs to be used to achieve the highest quality results possible. This is where the Pro-Aqua - Portable Water Softener Pro comes in. This unit was designed to be portable which makes it easy to transport in the back of a truck/van or on a dolly and be used at a job site. 
Many service professionals who require soft water to do their job, have some sort of portable softener. But the problem with older water softeners is their size. Some of the tanks people used were over 5 feet high, making them awkward to transport or to move around. The Pro+Aqua Portable Water Softener only measures 10" x 19.5", which makes it ideal for a business that has to travel from one job to another. By using a water softener, carpet cleaners get better results, leaving the fibers softer and cleaner than they would have if they had used hard water from the tap. Window washers won't have to deal with streaks and spots. It's the same outcome for auto/boat detailers, having a water softener will help prevent spotting on car and boat finishes that hard water normally leaves. By using a portable water softener, these small businesses mentioned can produce great results for their customers. In turn, helping them get repeat business as well as bolster their brand identity and reputation. 
---