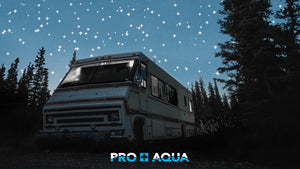 Get Ready for RV Season
Spring will be here before you know it. The official first day of Spring in 2021 is Saturday, March 20th. The season provides a great mix of bright sunny days without extreme temperature fluctuations. This time of the year brings people outside to enjoy a picnic, bike ride, or go on road trips. 
Road trips are an American tradition that each family gets to do. It's cheaper than flying and you get to see some great sights along the way. The most comfortable way to travel is by RV or by a pickup truck with a trailer in tow. If you've planned a mini weekend getaway or stay for a whole week at an RV park, make sure you find one that has full hookups. 
The trouble with many of these campgrounds would be the water source. Oftentimes, the water is very hard and contains high levels of chlorine and sediment. A portable water softener is a must for any road warrior since it helps to address hard water better than any other type of RV filter. 
Traditional RV filters are small charcoal inline systems that do an ok job in helping the water taste better, but it doesn't do anything for water hardness. The Pro Aqua Travel Series is part of a two-component system that is sold separately. The first portion would be the water filter/regeneration kit. This works in two ways, 1. It's a pre-filter that helps trap sediment and improve taste and odor, thanks to the coconut shell carbon. 2, it is also the regeneration kit for the Portable Water Softener.
Simply remove the filter inside the unit, pour in 2lbs of table salt , reinstall, attach a garden hose for your feed water to the OUT port, turn on the faucet and let it trickle out. 
The second component would be the actual portable water softener. This unit is a 16,000-grain softener that has a 2000 gallon capacity. What that means is it will need to be recharged every 2000 gallons of use. But all that depends on water quality and how often the system is used. We've had customers who use this softener report they are getting anywhere from 4 to 6 weeks of use between regeneration.  
When both systems are combined at the RV campground, the water quality that goes inside the camper is going to be 100% better. Not only will you get to enjoy soft water but the taste and odor improve greatly. Thus improving your road trip experience and saving you money from having to buy bottled water to use at the campground. 
---