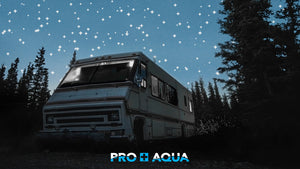 Why a portable water softener makes sense for your RV
The PRO-AQUA Portable Water Softener Pro can be used for a variety of applications. The most popular way this unit is used for would be as a portable water softener for RVs. 
Many road warriors find themselves at RV parks that have really hard water. Cheaper inline filters can work great with removing chlorine or odors from the water, but it doesn't do anything for the water's hardness.
This on the go portable water softener is very easy to use. Simply attach the RV park's water line to the standard garden hose connection on the unit and connect the other side to the RV. Since the Pro Aqua Portable Water Softener is fully assembled, charged, plus it doesn't need any tools, that means it's ready to use any time. It's designed to provide up to 40 days or 2000 gallons of softened water, but that all depends on the hardness of water and overall usage. However, once the softener is in service, it will help reduce calcium, magnesium, iron, lead, radium, and other heavy metals in the water in as little as 5 minutes!
If you've been using the Pro Aqua for 40 days or you've gone through about 2000 gallons and need to regenerate, well you're in luck. The process takes less than 30 minutes and you only need 2 boxes of table salt! Yes, you read that right, you don't need to keep those heavy 40lb bags of salt that regular water softeners use. All it takes is 2 boxes of table salt to regenerate the system. Just in case you wondered, a box of table salt from a local big box store is as cheap as $.50 each. 
Just think of the Pro Aqua Water Softener as an investment for your RV since it will not only provide you thousands of gallons of soft water, but you can even use the system to wash your RV, cars, boats, and motorcycles. After all, many car wash establishments use soft water for the final rinse to avoid water spots.   
---