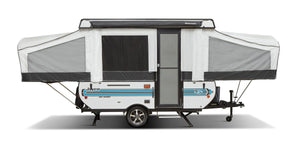 Water Filter for Pop-Up Campers
Did you know that just because you have a pop-up camper doesn't mean you have to miss out on filtered water at campgrounds? These trailers have various amenities such as a kitchen, dining table, faucet, and sink. On larger models, some may even have a shower and toilet. But these owners may not even think about hooking up to a water source at a campground since they have most likely brought bottled water to use for the duration of their trip. There's a common assumption with pop-up campers, that this is a step up from tent camping and that they'll just bring everything they need, including water, just like how they used to before upgrading to the trailer. 
While there are a variety of products available in the market for water filtration, many of them are small inline carbon filters that can be attached to the water source and the pop-up camper. Though these are handy and affordable, they are not the best solution when it comes to filtering campground water. One of the reasons is that they are far too small and the amount of carbon they have in them isn't enough to filter everything, meaning sediment particles such as dirt, rust, silt can make it past the carbon media and into the drinking glasses of the campers or into the foods they are cooking with. 
Another thing to consider is the lack of time that the water has with the charcoal. If water is flowing too fast or there's not enough charcoal in the filter, it will not be able to absorb and filter out any contaminants that could be found in the water. In addition, even if the water source is from a local municipality, it can still contain sediment debris. Some think that sediment can only occur from well sources. But with city water, sediment found in water basins and pipes can flow from the water treatment plant to the spigot. 
To address both chlorine and sediment contaminants in campground water, consider using the PRO+AQUA WS-P-REG-KITV2. This system was designed to be a prefilter and regeneration kit for the PRO+AQUA Portable RV Water Softener. But it is an amazing water filter for pop-up campers since it's compact and it can filter out contaminants that are 20 times smaller than the diameter of a human hair (5 microns) all while improving taste and odor. The filter inside the WS-P-REG-KIT2 will last a whole season of camping before it needs to be replaced and the cost of a new one is only $10.99
Pop-up campers have seen steady growth in popularity in the last year and a half. Perhaps it's the allure of its big brother, RVs, and how many have taken to social media to showcase #RVLIFE that's causing an uptick in purchases. Pop-up campers provide a great upgrade from tent camping and it gets people from sleeping on the ground and into a comfortable bed at night. They are also more affordable than RVs, with used models costing as low as $1500. They are relatively easy to maintain and register. They can be stored in a 2-car garage or under a tarp on the side of a house. Another highlight of a pop-up camper is that they can be towed by just about any vehicle including small sedans and SUVs.
---